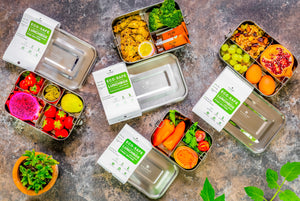 FREE SHIPPING & RETURNS FOR HOLIDAYS
AND, UP TO 45% OFF STORE WIDE SALE! LIMITED TIME!
MISSION BASED
CREATE SUSTAINABLE LIFESTYLE
At Ecozoi, our goal is to help you create an eco friendly and sustainable home that is plastic-free and chemical-free. We do it through our carefully sourced, and designed eco product lineup delivered in plastic free packaging. We ship 100% Carbon Neutral.
OUR PHILOSOPHY
SUSTAINABLE BY NATURE
Our eco lunch boxes and ice pack chillers are made from high quality food grade stainless steel that is toxin free. Experience the variety of plastic-free to-go containers that you do not find anywhere else!
OUR BELIEF
GIVE BACK TO THE PLANET
Our popsicle molds and Ice trays are made from high quality food grade stainless steel that is easy on the Planet and on your health alike. Making healthy, yum recipes is now sustainable than ever!
OUR PASSION
SAVE TREES - PLANT TREES
Our reusable bamboo kitchen towels would last 4x regular paper towels. Our extra soft bamboo toilet rolls go easy on your bum. Our plant based cleaning brushes will keep it all natural in your kitchen!
OUR CULTURE
INNOVATION in design
You love cooking, and we love making it easy! Our natural bamboo cutting boards with organizing trays would reduce your prep time by half, and make cooking a breeze and easy to clean!
OUR TRUE NORTH
GREEN PARTNERSHIPS
 Ecozoi is a women owned family enterprise. We partner with non profits like Eden Reforestation, RePurpose Global, and UCapture that contribute tocoral reef restoration and reforestation efforts across the globe. You are planting a tree for every purchase you make with us. We are on a mission to plant 1 Million trees by 2030.
DISCOVER MORE
Canvas Lunch Bags
Our canvas cotton bags come with space saver pockets to make your lunch box and accessories organized and clutter free every time.
CHARCUTERIE AND DINNER PLATES
Browse our best selling plant based charcuterie plates and dinner plates collection that are 100% biodegradable and compostable.
★★★★★

This is an awesome no spill 3 in 1 tier lunchbox. So far we are absolutely loving this lunchbox. Lots of space for a variety of foods, eco friendly, non plastic and compact too. And, glad to plant a tree with this box!

@what_isaac_wants
★★★★★

I have been trying to be more eco-friendly and purchase non toxic items. We recently purchased our first lunchbox from @ecozoi and love this 3-tier! And, we planted a tree with our purchase! how cool is that!

@logans_kitchen
★★★★★

I've come to absolutely love this 3-section lunch box. We try and reduce are carbon-footprint as a family, as much as we can, and this box reduces waste of plastic baggies and such. I love that it's leak proof, and is easy to wash.

@ourhumbletribeof5
★★★★★

These are super awesome! My plastic free popsicles for my kids became a reality. Though now it's a bit hard to convince Rachel to eat anything other than popsicles. 😂

@candidlybethann
★★★★★

This nifty tool took my snack time prep time and cut it in half! No more wasting time and extra dishes to separate everything. Made from organic bamboo and BPA free, it is also Eco-friendly. 

@inwiththeburrows
★★★★★

Having a child has significantly intensified our desire to reduce our carbon footprint. These completed my search for a plastic-free popsicle mold. Even the packaging was zero waste! 

@winging.motherhood